I use to love Mother Earth News magazine. Then I realized they were expanding to broad and had what I considered a lot of useless information. I don't care about a solar car that can do 100mph. A solar car would be great and one that can do the average speed limit for a prolonged period of time, that would be interesting. Anyway, I use that just as an example and yes there was an article on that very thing a year or so back.
My favorite magazine is Countryside & Small Stock Journal. They time their articles it seems just perfect. Each time I received my magazine it was just what I was working on or about to work on. I have found they are also good to refer back to for research. When I got the one on rabbits I sadly didn't even read the rabbit articles because we didn't have any intentions on raising rabbits. Now look at us.
I finally had to not renew my subscription last year as it was time to apply what I learned and quit just reading about it. I still watch for it on the stands to insure there isn't some information that I feel "I just can't live without". We are trying to watch our budget that is outgoing and not incoming at the moment.
I found that they also have a wonderful Countryside Library full of even more helpful information. Besides our blogging friends I feel this is and invaluable tool.
I blogged not to long ago about another book Owner-Built Homestead by Barbara Ken Kern. It is a great start up book for anyone wanting to homestead. I found it particularly helpful in the layout of my homestead.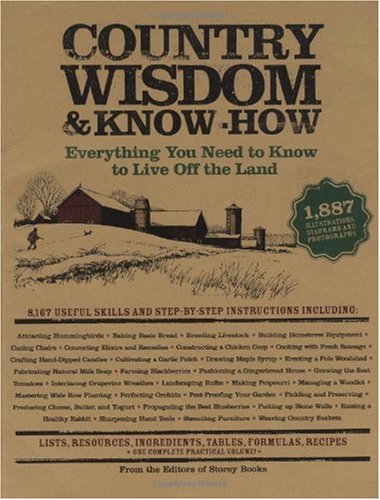 Another good book that my mother got me is Country Wisdom & Know-How. I looked everywhere online for good information on building a rabbit hutch and yet this is the best source that I found.
On the above link there are currently 43 reviews with the majority being 5 stars which is the highest.